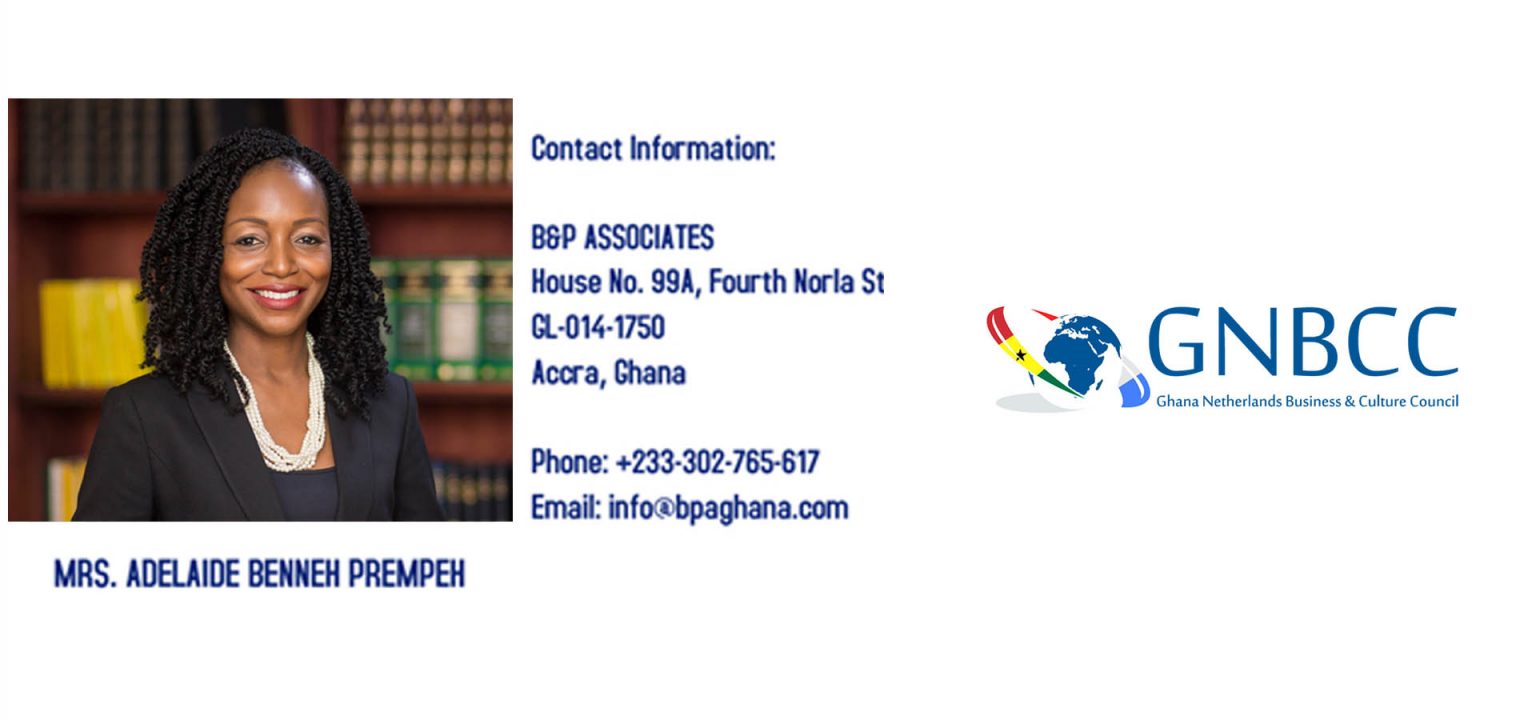 04 Oct

Interview with Adelaide Benneh Prempeh – GNBCC's Outgoing Board Chair
…This is not the end of an era but rather the end of this particular journey…
We were excited to have had one final conversation with Adelaide Benneh Prempeh, GNBCC's outgoing board chair. We look back on Adelaide's four-year journey on the board of GNBCC.
Adelaide was called to the English bar in 2001 and is celebrating her 20th year anniversary this year as a lawyer. Adelaide's relationship with GNBCC dates back to 2015, which began informally as a friend to the chamber, when Lysanne Denneboom and Fleur Hoog Antink were managing director and project manager, respectfully. Invitations to GNBCC's networking cocktails and forming good relationships became a common but enjoyable occurrence. Realizing that there was the opportunity to network, to socialize and be exposed to various industries due to the GNBCC diverse membership community, served as a real pull. Adelaide decided to become corporate member of GNBCC through her firm, B&P Associates and the rest, as they say, is history. We hope you enjoy reading this interview.
Who is Adelaide and how did you get started as a lawyer?
"I will say that I have several hats on at any given time but at the heart of it, I am very much a solution driven individual, I always strive to find solutions for others and I think that is what led me to my profession. As a child when something was not right and needed addressing, I was always the child that spoke up. I certainly was not happy to sit back when there was a hint of injustice. In time however, I have learned to be more intentional in my delivery to ensure that my points are well received. There is always a creative way of arriving at the destination without burning bridges completely. I would say that above all being a wife and a mother gives me the greatest satisfaction".
How long have you been a lawyer, what are your core values, and how has the journey been so far?
"I have been a lawyer for 20 years. Over all, my journey has been rewarding. I realized earlier on that I needed to hone the skills required to work with people, provide solutions or serve as a mouthpiece for others. That is the story of the law. I must say that I did not envisage the hard work, dedication and sacrifice that went with it, but in time I realized that my passion and curiosity to become a lawyer is what kept me going, and the work I put in was a means to an end.
I look back and can confidently say that my love for this profession has never wavered. The variety, growth and experience which I have been exposed to are limitless. I have, hand on my heart, thoroughly enjoyed the journey to date. The trick is to keep learning and keep it interesting. I have kept myself curious and engaged: each day is a new opportunity and there has never been a dull moment.
As a lawyer, it's very important to be thorough. When approached with a problem, you need to dive deep, be unflinching and never take your work for granted. In all circumstances, be a lawyer first, research thoroughly and always consider all angles to ensure that you have done a thorough job. Secondly, integrity is priceless—let your 'yes' be 'yes' and your 'no' be 'no' – it's a basic truism in life but even more so for Lawyers. We work with people, emotions, sometimes vulnerable and it is very important that we are truthful to them, not least because of our reputation but ultimately to earn their trust. You need to make sure that the word that gets out is a word you'll be proud of. The clients you deal with become your ambassadors tomorrow: they are the ones that will spread the good news or sound the death knell. Thirdly, it is important to treat others how you want to be treated. True humanity I find, is your ability to make people feel at ease in whatever circumstance they find themselves in".
Brief history B&P Associates and the journey so far
"B&P was birthed in 2014. It was born out of a vision to create a responsive and engaging, niche legal service. We strive to provide service to clients in record time without delay, without frustration on the client's part because of a lack of effective communication. The firm has been blessed with good quality lawyers who are passionate, ready to put in the work and make a difference. B&P Associates delivers services in key areas of corporate and commercial law. We focus on practice areas at the cutting edge of the Ghanaian economy including Renewable Energy, Restructuring and Insolvency, Projects and Infrastructure, Fintech, Data Protection, Labour Law and Business Immigration.
The B&P Culture is effective, responsive and more user friendly, ensuring that we offer quality services and advice on time in a manner that is useful to our clients".
Why did you become a board chair and how has the experience been? What are some challenges you have faced and how did conquer them?
"When the opportunity arose to join the board membership four years ago, and I believed that I could contribute positively to the growth of the GNBCC Community, I availed myself.
My tenure as board Chair was a time of growth and valuable experience. In less than a year as board chair, COVID was upon us which essentially was a huge game changer for the entire business community and the economy. I had taken on leadership at a time when the business community was facing challenges of a proportion we had not experienced in this lifetime: it felt like 'doom and gloom' but I am glad to say that the GNBCC community is a very resilient one. Much as we were all living day-to-day in these unchartered waters, the membership rallied behind the board. We had one of our most successful AGMs last year albeit our first virtual Annual General Meeting (AGM). It was a good turnout, members were engaged and we had a few laughs, we shared our experience on the negative toll of COVID, we still celebrated life and kept the wheels turning. This remains the attitude and the reason we continue to persevere. I have made fantastic friendships within the board and the community, created memories I will hold dear: I will remain fond of a community that worked extremely hard to make sure that GNBCC sailed through. Having been on the board for four years I look back with fondness on my learning experience and the deep friendships I have formed as a result".
How do you feel as your tenure comes to an end?
"I have mixed feelings; however, I step down with a sense of pride. Being the first female board chair, I hope my account encourages other women as an example of what happens when you project yourself. I have always been a huge believer that if you have skills or qualities to offer you can't sit in the dark. You need to project yourself, stand up, and take advantage of opportunities that are available without hesitation. It's more about preparation and seizing opportunities when they arrive. My time as the Board Chair of GNBCC has fully cemented this belief and I am a better person and a better leader for it".
Where do you see GNBCC in the next, 5 years?
"I see GNBCC as bigger and better, GNBCC is an organization that has stood the test of time. GNBCC implements all sorts of programs which are geared towards improving business on either side of the pond— Ghana and the Netherlands, and has done that very well to date. It is an organization that has metamorphosed from its origins to a very vibrant business community and has withstood challenges especially in this current climate. Coupled with what we now know of a pandemic era and the fact that we can live a different way than we previously thought possible, I think there are silver linings in this cloud and GNBCC can do extremely well in the next 5 years".
What are the next steps for Adelaide and what can we look forward to from B&P Associates?
"I have come to the end of this journey, but I am always energized for growth. For B&P, the foundation of the firm is solid in our value system and culture. We remain full steam ahead".
Thank you for reading this interesting article. The journey does not end here, Adelaide continues to be a member of GNBCC and maintains strong ties with the board, as well as GNBCC's members and clients. Find more about B&P Associates here, to get in touch, contact B&P Associates on +233-307-001-566/ +233-302-765-617 or via email at info@bpaghana.com