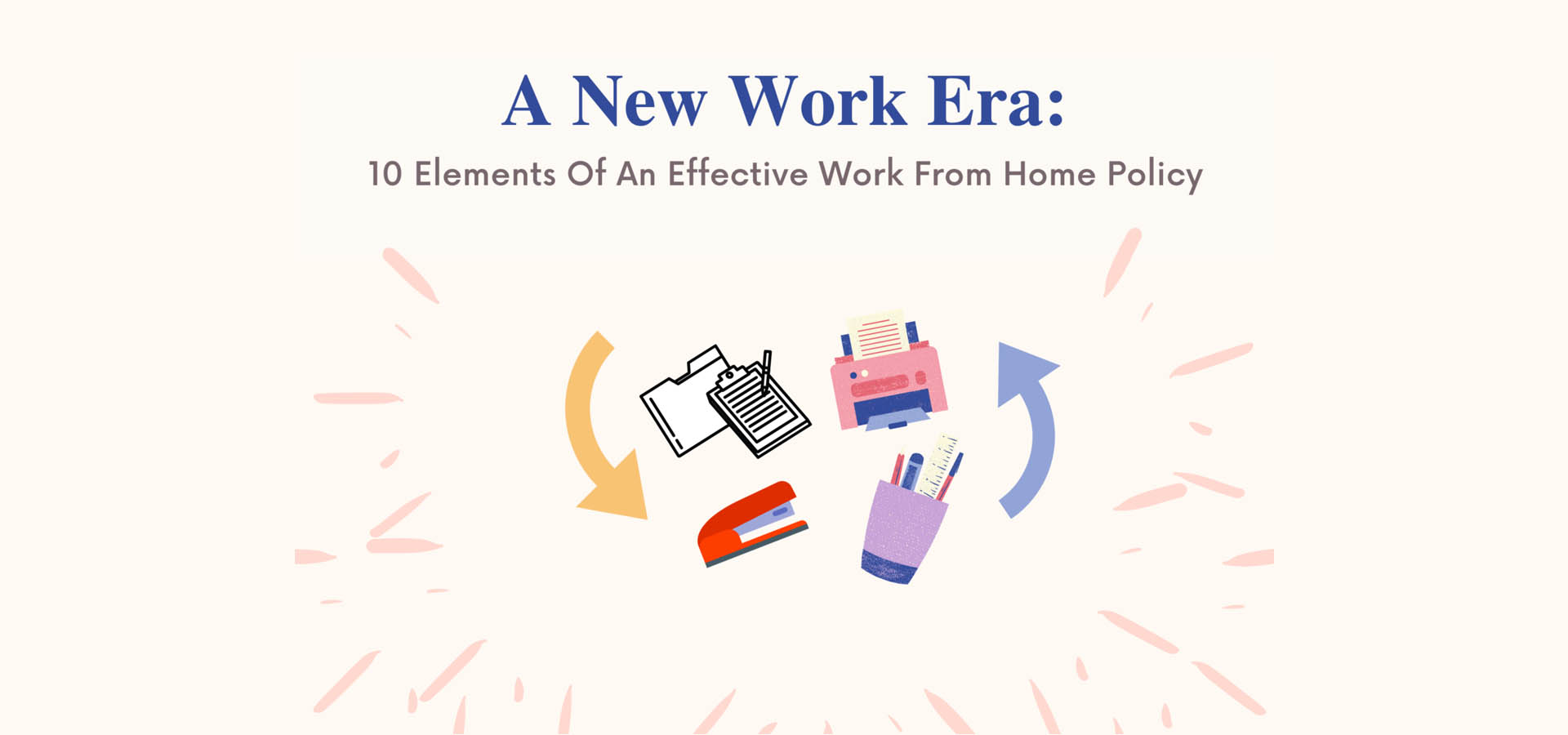 28 Aug

A New Work Era: 10 Elements of an Effective Work From Home Policy

Work From Home has become the trend of the present work environment, faster than expected. This new work arrangement allows employees, traditionally expected to work out of the employer's office, to perform their job duties from home or other remote location.

A Work From Home Policy is a formal document which regulates the terms of remote work. It provides guidelines defining the responsibilities and expectations of both employer and employee.

It is sound practice for employers to develop a Work From Home Policy that can help in navigating the nuances of remote work and mitigating risks inherent in offsite access to the work environment.

The following are the ten key elements of an effective Work From Home Policy:

1. Scope

The scope of the Policy defines the intent and purpose of remote working, as well as the conditions for remote working.

2. Eligibility

Some work functions can not be performed remotely. For these and all other cases, the Policy must clearly address the eligibility requirements for work from home, including any circumstances under which employees may be permitted to operate remotely.

3. Attendance, Availability and Dress Code

Attendance, conduct and availability expectations of employees must be outlined, including legally compliant working hours and break periods. In an attempt to maintain professionalism, a dress code for video conferencing or in-person meetings outside the employer's office may be defined in the Policy.

4. Risk Assessment

A risk assessment checklist can help employees predetermine the best work space for themselves outside the office. It should consider family-work balance, suitable technology, cyber security, and health and safety, among others.

5. Productivity Standards

Employers must ensure that all employees working from home know the level of performance and productivity which is expected of them. The Policy must also state how work objectives will be set, and how performance will be managed and assessed by the management.

6. Technology

The Policy must state what equipment and technological, as well as technical/troubleshooting support will be offered to employees while working from home. It should also highlight any functionality trials and home set-up arrangements that may be necessary.

7. Confidentiality

Confidentiality and data protection standards of the employer should remain in force for Work From Home team members. The Policy must address the procedures for securing business and client information, and any other confidential and proprietary data.

8. Communication

A successful remote working relationship relies on effective communication channels. The Policy should state all approved communication platforms and points of contact between the employer and employee. Defined communication avenues can not only improve performance effectiveness but can encourage employees to raise feedback and concerns regarding their work situations and allow for improvement of the Work From Home framework.

9. Remuneration

Bearing in mind the cost of internet, adjusted working hours or responsibilities, and discontinued commute to the office, etc, an employer might reconsider the compensation of remote employees. In that case, the Policy should address any standard modifications to remuneration that would affect employees working from home.

10. Contractual Changes

Whether a work from home arrangement is temporary or permanent, the Policy should address any terms which might affect the employer's standard employment contract, once remote work is assumed. For permanent remote workers, it is essential that any such changes are reflected in appropriately modified and signed contracts by both the employer and employees.

It is essential that both employers and employees working from home understand and agree to the terms of the Work From Home Policy. The Policy should be reviewed and updated regularly by the employer, to ensure legal compliance and relevance to current developments impacting the workforce.

To further discuss this blogpost or related matters, visit our office at House No. 99A 4th Norla Street, Labone – Accra or contact us on 0307001566 or info@bpaghana.com and a member of the B&P ASSOCIATES legal team will be happy to provide further insight.